Our condolences to the family of AMHA Alumni Morgan Simpson
---
---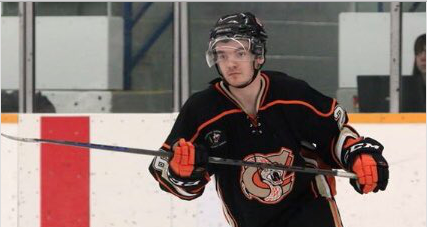 ---
June 18, 1998 - Kingston, Ontario
March 2, 2018 - Calgary, Alberta
It is with profound sadness that the family of Morgan Simpson announces his passing on March 2, 2018 in Calgary, Alberta at the age of 19. Morgan was born in Kingston, Ontario on June 18th, 1998, minutes after his twin brother and best friend Ryan. The boys were born to elated parents Jay and April.
His easygoing and friendly nature was evident throughout his childhood and served him well into his teenaged years. After several years of living in Belleville, Ontario, the family moved to Airdrie, Alberta in 2010. Morgan was quick to make friends through his love of many sports, especially hockey. Morgan was a determined player who his teammates describe as hardworking, coachable and overall great teammate. Morgan was a proud and loyal member of the Belleville Jr. Bulls, Quinte AAA Red Devils, Airdrie Lightning, Airdrie Bantam AAA Xtreme, Cochrane Generals and most recently the Coaldale Copperheads. A hardworking and well-rounded athlete, Morgan also enjoyed playing soccer for both the Belleville Comets and Airdrie Aztecs.
Morgan was a steadfast wingman to many friends on and off the ice. Whether they needed a ride, a shoulder to cry on or a listening ear, regardless of the time of day or night, Morgan was their go-to guy. His kind heart and caring demeanor brought comfort to many, as did his unforgettable smile.
Just beginning to spread his wings, Morgan had recently left the comfort of his loving home to embark on the next chapter of his journey. He embraced his independence and his studies as a Criminal Justice student at Lethbridge College with the hopes of beginning a career as a police officer.
Morgan's love for his family was evident from a very young age, whether it was going on vacation to his favourite place Myrtle Beach, South Carolina or just going to a family movie night, Morgan was always close with his brother and parents. Morgan especially loved Christmas time where countless hours were spent playing cards and board games with family.
Morgan is survived by his proud and loving parents, Jay and April; his brother Ryan and sister Kaela; grandparents, Paul and Jackie Pickell, Bill and Margo Simpson; numerous aunts, uncles and cousins; he will be fondly remembered by his countless friends, teammates, classmates and his dog Jersey.
A Celebration of Morgan's life will be held at Centre Street Church (3900 - 2nd Street N.E., Calgary, AB) on Saturday, March 10, 2018 at 10:00 a.m. Reception to follow at the church. Condolences may be forwarded through www.mcinnisandholloway.com.
If friends and family so desire, memorial tributes can be made in memory of Morgan at www.airdriethunder.ca.
In living memory of Morgan Simpson, a tree will be planted at Fish Creek Provincial Park by McINNIS & HOLLOWAY FUNERAL HOMES, Airdrie, 300 TOWERLANE DRIVE, AIRDRIE, AB. Telephone: 403-948-1100.