Global Sport Academy
---
Hello Everyone!
We are excited to announce the expansion of Global Sport Academy into Grades 7, 8 and 9 for the 2018-19 school year! At our very foundation, Global enhances the educational and leadership experiences of student athletes while redefining the journey through youth sports.
Our 10-12 Male and Midget AAA Bisons hockey programs have experienced tremendous progress both on the ice and in the classroom since beginning their journeys in Global in September.
We're holding our next information night on Tuesday January 16th beginning at 7:00 pm at the RVS Education Centre.
We welcome you to attend this information night to learn more about Global Sport Academy in Airdrie and learn about the many benefits that we offer.
If you know of any families who might be interested in learning more about our program please forward them this email. There is still an opportunity for families to join the Global Program in the 2nd semester this year in our Grade 10-12 Male group. I have attached below our updated poster with all the information on it.
If you know of any families who we should connect with, please let us know.
Thank you and take care,

--
Dustin Taylor
Head Coach - Global Sport Academy Group
C: 403.404.6875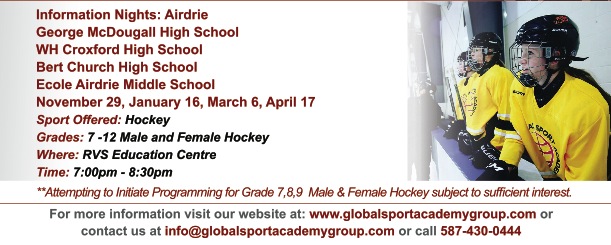 Twitter: @global_sportaca / @STIXhockey
Facebook: Global Sport Academy Group / STIX Hockey Academy
Instagram: globalsportacademy / STIXhockey